I aim to increase the visual quality of this site by adding the highest quality images possible and updating old, small or grainy images. If anyone would like me to upload a specific image, just drop me a line on my talk page and let me know what episode it's in, if you can. Also check out my gallery for a few of the images I've worked on. Cheers. -Ka'lel
Stargate History
[
]
In the last few years, Stargate has replaced the likes of Star Trek, Quantum Leap and other shows as my favourite sci-fi show. However, had Firefly been on any station other than Fox, it most definitely would have survived more seasons to give Stargate a run for its money.
My story seems to be a common one among Stargate fans, in that I didn't start watching the series at the beginning. I became an SG-1 fan at the beginning of Season 4, sometime after "Window of Opportunity". At season 5, I was watching an episode a day in syndication. My fandom/fanaticism kicked into high gear and I watched SG-1 seasons 9 and 10, Atlantis seasons 1-4 and the (up-to-date-at-the-time) first 10 episodes of season 5, all within a few weeks time.
I'm sad to see Atlantis go, but look forward to the movie.
I'm loving SGU and hope it gets picked up for a second season.
I had Beau Bridges sign my copies of Continuum and Ark of Truth; it was an interesting experience.
I chose the username "Ka'lel" because of the obvious similarity to Superman/Clark Kent's birth-name.
Favourites
[
]
Listed with my favourite favourites first.
Scenes
[
]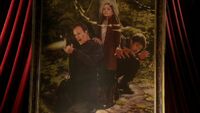 Stargate: SG-1
Stargate: Atlantis
Stargate: Universe
Stargate Movies
Episodes
[
]
Stargate: SG-1
Stargate: Atlantis
Stargate: Universe
Quotes
[
]
Stargate: SG-1
O'Neill: "We'll jump off that bridge when we come to it." -Questioning the effectiveness of a Kull disruptor. (Death Knell)
Vala: "I'm going to go crazy, and I'm taking you with me." -To Daniel, after learning she'll have to spend three months aboard the Odyssey. (Unending)
Teal'c: "False god. Dead false god." -About Apophis.
Bra'tac: "Hammond...of Texas." -along with the "you're bald" hand gesture. Gets me every time.
Stargate: Atlantis
Sheppard: "It's been a pleasure."
Ronon: "Same." -Trapped under rubble, ready to die fighting. (Search and Rescue)
McKay: "I'm Dr. Rodney McKay, alright? Difficult takes a few seconds; impossible, a few minutes." (Brain Storm)
Stargate: Universe
Greer: "Walk or die here! It's your choice, Mr. ... Decision Maker" (Air, Part 3)
Young: "A lot of work..." (regarding Rush)
Stargate Movies
Daniel: "Shit." -Left alone in the middle of the arctic with a frozen leg. (Stargate: Continuum)
Mitchell: "Oh give me a break." -Bloodied, beaten, exhausted and about to be completely surrounded by Replicators. (Stargate: Ark of Truth)
Out of Universe
Robert C. Cooper: (regarding his writing process) "I inevitably watch a lot of TV. Hey, it's my job. The scene generally plays out like this:
My wife: You sure are watching a lot of TV.
Me: I'm working."
Joe Flanigan: (at the Atlantis wrap party) "In the equatorial regions, David's much larger than he was when we started the show. And he's got less hair."
Jason Momoa: (at the Atlantis wrap party) "I'm gonna miss playing him, he's a fun character for sure. But, also looking forward to...smiling instead of beating people up."
Technology
[
]
Weapons
Ships
F-302 fighter-interceptors - a great feat of reverse engineering.
Wraith Dart - for the look, the culling beam, and the sound it makes when it flies.
Odyssey - the most technologically advanced ship in the Tau'ri fleet, thanks to the Asgard.
Ori Mothership - the coolest looking ship in the Universe.
Daedalus - for repeatedly arriving in the nick of time.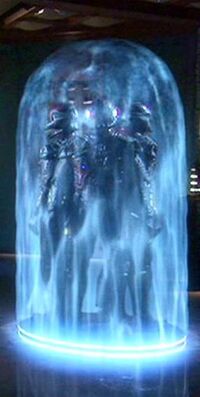 Other
The Asgard Elevator - for lack of a better term. Puts the users in a protective bubble, cuts through seemingly anything, and floats through the air when recalled to the ship. Much cooler than beaming.
Lost Tribe Battle Suit - Armored, and a list of abilities that would make Inspector Gadget proud.
Characters
[
]
SG-1
Atlantis
SGU
Supporting Characters: Radek Zelenka, Bill Lee, Evan Lorne, Vanessa James (I mean...damn, right?)
Non-Humans: Hermiod (love it when he gets angry and curses in Asgard), Thor, Morgan Le Fay, Todd
Enemies: Michael Kenmore, Adria, Ba'al, Fifth, Replicator Carter
Least Favourites
[
]
The worst of the worst, first.
Episodes
[
]
Whispers - despite the return of Carson Beckett, this episode is like a terrible "B" horror movie.
Clip episodes in general. *Not specific to Stargate.
Characters
[
]
Technology
[
]
Wraith rifle - I'm probably not the only one who noticed they replaced this weapon in the series with the spear gun somewhere in season one or two. It just looks weird...like they're holding a Swordfish backwards and the stun blasts come out the back end.
More to come.
Joke of the Moment
[
]
It's very hard to think of clean jokes that I find genuinely funny.