"The Queen" is the eighth episode of the fifth season of Stargate: Atlantis.
Synopsis
The Atlantis expedition has a plan to remove the Wraith's dependence on feeding to use an experimental gene therapy from Michael's database. However, in order to convince the Primary, the Wraith leader, Teyla Emmagan must pose as a Hive Queen.
Previously on Stargate: Atlantis
Teyla Emmagan discovered that she had some Wraith DNA in her system, and with this, was able to have the ability to sense the Wraith coming. The Atlantis expedition encounter a Wraith, later to be named Todd. He came to help Atlantis stop the Asurans from destroying Human populations throughout the galaxy. However, his Hive ship was destroyed by another Hive, which was destroyed by the blast from Todd's Hive. The destruction no doubt killed his Queen. Later, Michael Kenmore managed to have tampered with his own DNA, which turned him into a Human-Wraith Hybrid. The main advantage of this is that this has removed the Wraith's biggest weakness; the need to feed.
Plot
Lt. Colonel John Sheppard's team, along with Dr. Jennifer Keller exits a Spacegate by a Puddle Jumper to a Hive ship. When they are close enough, Keller is awed, yet afraid of the size of the ship, since she has never see one in space. The Jumper is then given a communication from the Hive; docking instructions, but no simple "hello". When they land, the team prepares their weapons and opens the Jumper's rear hatch, only to find several soldiers aiming their stunners at the team.
As they think they are double crossed, a familiar voice tells the warriors to stand down. The familiar voice turns out to be "Todd". He welcomes them on board his Hive, and escorts them to a room. He introduces his second-in-command. Once in the room, the team notices a table of fruit bowls, something "Todd" prepared to make their visit more like home, hoping the fruit to be "as delicious as the farmers who grew them". When he asks what the team wants, Sheppard introduces him to Keller, who nervously delivers a startling proposition. Aided by her studies of Michael's retrieved data, Keller believes she has found a gene therapy, by which to "cure" the Wraith of their need to feed on Humans. All she requires are some Wraith willing to act as test subjects for this breakthrough treatment. At first, "Todd" dismisses the idea as "absurd", but when given some assurances that the test is to be promising, he walks out of the room to think about the proposal.
In the meantime, the team talk in the room. Ronon Dex, who has a hatred for the Wraith, thinks this is a bad idea, but since they tried to take down the Wraith for four years, and are still around in large numbers. The gene therapy is going to be for the Humans of the galaxy, who may not need to fear the Wraith again. After a while, "Todd" returns, and says that he is intrigued of the idea, and plans to send the proposal to a new Wraith alliance. However, there is a problem. His position among the Wraith means he is in an alliance of only a handful of Hives, and even if the gene therapy works, only a small percentage of Wraith will take the treatment, and that is even if they agree to it. In order to deliver the proposal to all Wraith, they must convince a Hive Queen, who stands up among the rest, the Primary, the supreme queen. But the only way the queen will listen, is if she speaks with another Queen. Unfortunately, Todd's Queen was killed last year over M35-117. Fortunately for them, the Primary does not know about her demise, so they must find a new Queen, or a close enough substitute; Teyla Emmagan. Since she has the Wraith DNA, she must play queen. Reluctantly, Teyla goes ahead with the idea.
Back in Atlantis, Sheppard argues with Teyla that the plan is a bad idea; if they give the Wraith the therapy, due to their technological advances to most Human races, it will just convince them to enslave the galaxy, similar to the Goa'uld in the Milky Way. Instead, they should just wait until they wipe each other out; Teyla counters that once the civil war is over, one faction will emerge victorious and many planets would be culled in between. She sees that they may not get rid of the Wraith permanently, but they can save many people in the galaxy.
Later, "Todd" arrives through the Stargate, where he is to consult an operation on Teyla, to turn her into a Hive Queen. For several hours, Keller, with "Todd's" help has managed to have transformed Teyla into a queen, through plastic surgery. The team take a look at her, and are surprised by what they see. Afterwards, "Todd" trains Teyla on Wraith etiquette, and instructs her to show no fear, or their operation will go awry. After "Todd" is satisfied that she is ready, he informs the rest of the team. Sheppard, Ronon and Dr. Rodney McKay come with Teyla, "Todd" and the second-in-command jumps to hyperspace to the Primary's hive ship for "Todd" to deliver his proposal, since the less the Wraith know about him working with the Atlanteans, the better.
When they later drop out of hyperspace, the other Hive hails them, and Teyla is able to contact the Primary, who had started to think she did not exist, and to tell her to board her ship, before breaking communication. "Todd" tells Teyla that she likes her. Teyla then sees her team one last time, telling them that the introductions are actually working surprisingly well. The team wishes her luck, and Teyla joins "Todd" in a visit to the Primary's Hive Ship via a scout ship. They are met by the Primary's Commander. However, he instructs the crew to send the Hive into hyperspace in order to conduct their meeting elsewhere. The rest of the team could only watch as the Primary's Hive jumps into hyperspace, and there is no way to track them. The team confronts the Wraith, who swears they have nothing to do with this. They have no choice but to trust each other.
Meanwhile, "Todd" and Teyla eventually meet with the Primary. However, as soon as they meet, "Todd" pulls out a knife and stabs her in the neck. She activates a pendant before she dies. "Todd" gives a startled Teyla the knife and tells her that she must take the blame. When the commander looks at the Primary's dead body, he prepares to kill Teyla. However, "Todd", later Teyla, who threatens him, convinces him that she was weak, and Teyla is to become the new Primary. She orders the ship to be dropped out of hyperspace over a nebula.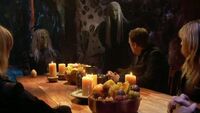 Later, when "Todd" tells Teyla that the Wraith have been fooled, she argues with him that she should be consulted on this. "Todd" explains that the Primary was never going to accept their proposal, and killing her would be the only way the entire alliance will be made to accept taking the "cure". Back on "Todd's" ship, Sheppard thinks that this was not a setup, since "Kenny", Sheppard's name for the second-in-command seemed pretty surprised when the other Hive disappeared. "Kenny" then walks in and tells the men that he has located them, via the subspace transmitter implanted in "Todd" outside the nebula, as the tracker isn't broadcasting in hyperspace. They manage to convince "Kenny" to pursue them.
Teyla is given the news by the Commander that another Hive that is not in the alliance has encroached on one of their richer feeding grounds. "Todd" convinces her that she should go over there to settle this because not doing so will make her look weak, and their ship is the closest ship. When the Hive ship arrives, the commander requests contacting the hive. However, Teyla orders her ship to open fire on the other ship, much to the surprise of "Todd" and the other Wraith on the bridge. "Todd" realizes that Teyla is doing this on purpose, to kill Wraith on both sides. At first, the enemy Hive is damaged, but retaliates and launches an attack on her hive. The battle doesn't go very well, as half of Teyla's first squadron of Wraith Darts are destroyed, and the other hive was able to shut down their main weapons.
When Sheppard's Hive exits hyperspace over the nebula, they find no sign of "Todd", as his tracker is now over a planet far away. Thinking that if they jump again, they could lose them again, or come under attack, Sheppard, Ronon and McKay takes the Puddle Jumper to the nearest planet, where they go through its Stargate to the planet Teyla is over. They discover that there are two Hives engaging, and Teyla's Hive is losing, and they decide to help. Sheppard de-cloaks the Jumper and fires Drone weapons to the enemy Hive's key areas, disabling the ship, before re-cloaking the Jumper. Teyla is able to finish it off, which quickly destroys the Hive. Teyla later reminds the shocked Commander, who thinks that this was impossible, not to under-estimate her.
The team enter the Hive Ship to get to Teyla, since they think she is in some kind of trouble and needs help. However, as they search for her, they find that they are cornered, and surrounded. They try to shoot their way through, but they quickly get captured and stunned. The Commander sees them and has them taken to a holding cell. When the team wonder what happened to Teyla, she enters the brig and tells the Wraith guards to leave. She brings them up to speed on "Todd's" plan, that she is in control and tells them that she cannot leave until she has solidified her position as the Hive's new Queen. As she leaves, the Commander has been overhearing the entire conversation.
Teyla enters her private quarters, and sees that the Commander has let himself in and confronts Teyla. He tells her that he oversaw her conversation with the Atlanteans, so he manages to call her bluff and is about to kill her for murdering his original Queen. He draws out a sword and the two of them get into a fight. Teyla stabs the Wraith, but he manages to throw her aside and subdues her. He puts the sword to her throat, saying "I'm afraid your reign is over, my queen." Just as he is about to kill her, he is shot by a Wraith stunner, held by "Todd", who then snaps the commander's neck, killing him. The two of them walk out, while "Todd" informs Teyla that Sheppard, Ronon and McKay will be transported to his ship and that she can join them after this is all over.
Teyla addresses "her Wraith" to inform them that she will be returning to her former Hive ship and that she leaves her trusted commander "Todd" behind. As Teyla and "Todd" walk out of the throne room, she is saluted by all the Wraith present. In the corridor "Todd" tells Teyla that he won't be administering the drugs anytime soon, because it would be unwise to institute such a large change right after their change in leadership. Teyla agrees, but informs "Todd" that the crew still thinks she is their Queen and that she will not hesitate to come back and have him removed permanently if he does not hold his end of the bargain. She walks away, leaving "Todd" looking surprised.
Back on Atlantis Sheppard visits Teyla (who is back to her normal self) in the infirmary to tell her that they will be meeting with "Todd" in a few weeks now that he has solidified his place as leader of the alliance (as word would have it). After a little talk, Sheppard walks out and we see Teyla looking at her hand as if there were still a Wraith feeding organ.
Appearances
Appearances for The Queen
Locations
Events
Items
Vehicles
Sentient Species
Languages
Organizations
Mentioned
Notable quotes
(a Wraith hive ship comes into view.)
Keller: My God! How big is that thing?
Sheppard: Never seen a hive in space, huh?
Keller: I've never seen one, period. I mean, I've seen video logs but never in person.
McKay: Ah, you never forget your first.
McKay: Apparently. I'm receiving a transmission.
Sheppard: Docking instructions.
McKay: What, no "Hello, greetings weary travelers"?!
Sheppard: Guess not. So much for the red carpet.
(the Jumper heads into the docking bay and lands.)
Keller: So, what happens now?
McKay: If history's taught us anything, this is the part where we get double crossed and taken prisoner.
Sheppard: Hmm. Fruit bowl, nice touch.
Todd: Well, we picked them up on our travels. I thought it would make our discussions more comfortable. I hope they prove as delicious as the farmers who grew them.
McKay: Wait a minute. I thought you worked with a whole group of Hives.
Todd: I do, but I may have...exaggerated my position within the alliance.
Sheppard: He doesn't have the clout!
Ronon: (smugly) Then he's no good to us.
Todd: There is only one you need to convince. Among all the Queens in the alliance, one sits above the rest. We call her the Primary.
McKay: The uber-Queen?
Todd: Convince her, and the rest will fall into line.
Sheppard: Then convince her.
Todd: She will only speak with another Queen.
Teyla: And your Queen was killed last year in the skies above Atlantis.
Todd: Regrettably, yes. But the Primary does not know this.
Sheppard: You bluffed your way into the alliance and convinced them you still have a Queen?!
Todd: They would not have accepted me otherwise. Up 'til now I've been able to maintain this subterfuge, but a face-to-face meeting…that would be difficult. In fact, there is only one person who could help me.
McKay: When are we gonna get to see her?
Sheppard: Give it some time. Just relax.
McKay: I can't. I had like three cups of coffee and I'm completely wired.
Ronon: (sarcastically) Really? I hadn't noticed.
Ronon: I still say this was a setup.
Sheppard: I don't know. "Kenny" seemed pretty surprised when that ship disappeared.
McKay: Who?
Sheppard: "Kenny", the second in command.
McKay: Well, since when did we start calling him that?
Ronon: Maybe he wasn't in on it.
Sheppard: I don't know. If "Todd" wanted to kidnap Teyla, he would have done it the second we arrived. Doesn't add up.
McKay: Seriously, the next time we have to name one of these guys, we should take a vote.
McKay: You know, just last week I was talking to Zelenka about trying to reverse-engineer a Daedalus beaming system for the Jumpers.
Sheppard: (hopefully) And?
McKay: Oh, well, no. No, we're nowhere near close.
(Sheppard closes his eyes and grimaces.)
McKay: I mean, the Asgard technology's incredibly complicated.
Sheppard: Well, what the hell are you bringing this up for now?
McKay: I'm just saying that this would be the perfect situation for something...
(Sheppard groans in annoyance.)
Cast
Main Characters
Guest Stars
Notes
This is the first episode of Stargate: Atlantis since "The Lost Boys" to begin with an abbreviated title sequence during its airing in the US. However, when it was first aired in the UK, the main opening title continued on to the end of the series.
Apollonia Vanova (5'9") and Rachel Luttrell (5'4") are both considerably shorter than Andee Frizzell, perhaps explaining Vanova's casting, as Frizzell, at 6'1", would have towered noticeably over Luttrell, straining credulity as to their characters' genetic similarity.
In this episode another Hive ship is destroyed by Teyla Emmagan. This brings the total to fifteen since the expedition arrived in the galaxy.
The end of the episode takes place around two weeks after the rest of it given Lt. Colonel John Sheppard's comments to Teyla at the end.
In the Legacy continuation series, it's revealed that along with training in how to act as a Wraith Queen during this episode, Todd trained Teyla extensively in how to properly use her Wraith telepathic abilities. As a result, during the Legacy series, Teyla is able to use her powers much more efficiently and on the level of a Wraith Queen.
During the Legacy series, Teyla briefly resumes her role as Todd's Queen, Steelflower, to aid him in raising a new alliance to battle Queen Death.
Goofs
In discussing what would be required for Teyla Emmagan to pass as a Wraith, no mention is made of the Wraith's telepathy (which was shown to be one of their means of communication, yet in this episode is completely ignored to allow this plot to progress). Attempting to masquerade as a Queen without telepathy (which in particular are expected to casually wield strong telepathic abilities) would not be very likely to succeed as any suspicious Wraith would've immediately realized Teyla was not who she said she was.
Awards
Won Leo for "Best Costume Design in a Dramatic Series" (Val Halverson)
Other languages
French: La Nouvelle Reine (The New Queen)
Hungarian: A királynő (The Queen)
German: Die Königin (The Queen)
External links