Wiki Targeted (Entertainment)
Play Sound
A Stargate shield is a shield that fulfills the same role as the metal Iris for Stargate Command. The most famous example of a shielded Stargate is the one in Atlantis.
The Atlantis shield
[
]
Unlike the Iris protecting the Stargate on Earth, the shield on the Atlantis Stargate is translucent; the suppressed Unstable vortex and the impact of objects prevented from rematerializing can clearly be seen. The Atlantis shield has yet to be breached by anything because it is placed so close to the event horizon that it blocks even subatomic particles, unlike Earth's iris which can only block objects larger than an atom. However, a "back-door" previously coded into the shield's control system by Dr. Rodney McKay allowed him to remotely deactivate Atlantis' gate shield from an off world location, preventing anyone else (including anyone using the shield's control panel in Atlantis itself) from reactivating it. (SGA: "Rising", "The Return, Part 2")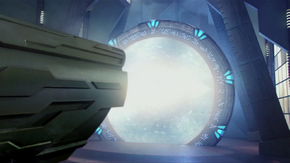 GDOs and IDCs are still used by both Atlantis' offworld teams and the Athosians, which usually prevents unfriendlies from entering the city via Stargate although that is not always the case. It is unknown what method the original Lanteans used to identify themselves as incoming travelers, but it is possible that the Puddle Jumpers themselves performed this function in some way. (SGA: "The Storm")
The Atlantis Stargate shield generator is not built into the gate itself, but is located somewhere else in the control room, or elsewhere on Atlantis. It continued to function when the original gate was destroyed and replaced. (SGA: "The Lost Tribe")
Notable appearances
[
]
Other shielded gates
[
]
Some planets, mostly Goa'uld-controlled, use a Stargate shield similar to, but less effective than, the one in place on Atlantis. These shields wrap around the entire Stargate instead of solely against the wormhole, allowing most particles to rematerialize.
Instances of Goa'uld-controlled Stargates protected by a shield include: