"Oooh, how we gonna get outta this one Captain? Oh, I don't know, something to do with a tachyon emitter."
Star Trek was a science fiction television series created on Earth in the late 1960s by Gene Roddenberry. Though it achieved little success in its original run, it inspired several films and spin-off series years later.
The series has had a huge impact on Earth culture and jargon. For example, humans of the Tau'ri often refer to the act of using Asgard teleportation technology as "beaming." Dr. Simon Coombs, a scientist working at Stargate Command, is an obsessed fan of the series. (SG1: "The Other Guys")
Martin Lloyd had plagiarized Star Trek as part of a plot for the proposed TV movie of Wormhole X-Treme!. (SG1: "200")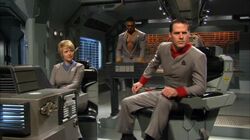 When arriving on Abydos, Major Louis Ferretti greets Dr. Daniel Jackson with the Vulcan salute. (SG1: "Children of the Gods")
When asked his name by Major Robert Thornbird, Colonel Jack O'Neill identifies himself as "Captain James T. Kirk of the Starship Enterprise" before changing to "Luke Skywalker" of Star Wars. (SG1: "1969") (Star Trek existed in 1969 -albeit it was an obscure show at the time. Star Wars was yet to be released)
When asked if he could "beam" O'Neill and Teal'c out of the X-301 Interceptor, Jacob Carter asks "What am I? Scotty?" (SG1: "Tangent")
Cadet Jennifer Hailey referred to a Zat'nik'tel as a phaser. (SG1: "Prodigy")
The Russian commander, Colonel Chekov, is named after Original Series character Pavel Chekov, who was also of Russian descent.
When going through the checklist for the X-302 hyperspace fighter, Major Samantha Carter lists Inertial Dampeners, which are a Star Trek technology. O'Neill looks surprised and replies "Cool! And check,". He then suggests phasers to which Carter replies "Sorry, sir." (SG1: "Redemption, Part 1")
Dr. Simon Coombs makes various references to Star Trek. Additionally the Tok'ra agent, Khonsu, has a Klingon bat'leth on the wall behind his throne. (SG1: "The Other Guys")
When trying to settle on a name for the Prometheus, O'Neill suggests naming it the Enterprise. (SG1: "Unnatural Selection")
After waking from a drug induced state, intended to mimic death, Lt. Colonel Cameron Mitchell says to Jolan, "Well done, Bones", a reference to times Dr. Leonard McCoy used a similar technique. (SG1: "Babylon")
Mitchell concludes that an SG-1 team from an alternate reality is not evil because they don't have beards, a reference to Star Trek's mirror universe. (SG1: "Ripple Effect")
In a parody scene, the Odyssey was used as the Enterprise in an amalgam of The Original Series and The Next Generation. Mitchell was Captain Kirk, Teal'c was Worf, Carter was Uhura, Jackson was Dr. McCoy and the series' co-creator Brad Wright was Scotty. (SG1: "200")
When Mitchell took command of the Odyssey in 2007, the first command he gave was "weapons to maximum". (Stargate: The Ark of Truth)
Whenever Teal'c is out of the SGC he wears a hat or headband to cover his head badge, just like Mr. Spock covers his ears when traveling to earth's past or a primitive people.
Right before they went to gather supplies, Adam Brody shows the crew what the power conduit parts look like and Greer asks "What do ya call those things?" and Brody says "I don't know... things that make it go?". This is a reference to Star Trek:TNG, the episode "Samaritan Snare" Season 2, ep 17 where the Pakled's attempt to kidnap Geordi under the false pretense their ship the "Mondor" is broken, but they sabotaged their ship themselves. Riker inquired about what their needs are and their real purpose for sending a distress call to the USS Enterprise D, but all Pakled's said was "We look for things... things that make us go". This is indicating to the situation the crew are in being stuck on Destiny far from home, it was Brody's way of trying to express how he and the crew hate being stuck on Destiny and miss being home on earth.
Many actors from the Star Trek series have guest starred on the Stargate series. They include:
Actor/Actress
Stargate character
Star Trek character
Tony Amendola
Bra'tac
Chorus #3
David Andrews
Se'tak
Lorian
Rene Auberjonois
Alar
Odo
Erick Avari
Kasuf
Jamin, Vedek Yarka, B'iJik
John Billingsley
Dr. Simon Coombs
Phlox
Jolene Blalock
Ishta
T'Pol
Frank Collison
Keturah
Gul Dolak
Ronny Cox
Robert Kinsey
Edward Jellico
Steven Culp
Henry Wallace
J.Hayes
Nicole de Boer
Dr. Alison Porter
Ezri Dax
John de Lancie
Colonel Frank Simmons
Q
Louis Ferreira
Colonel Everett Young
Trevis
Robert Foxworth
Ashwan
V'Las, Admiral Leyton
Willie Garson
Martin Lloyd
Riga
Elizabeth Hoffman
Catherine Langford
Bhavani
Robert Knepper
Simeon
Gaul, Wyatt Miller
Christopher McDonald
Senator Alan Armstrong
Richard Castillo
Scott MacDonald
Golan Jarlath
Dolim, N'Vek and others
Dakin Matthews
Maz'rai
Patterson
Paul McGillion
Dr. Carson Beckett
Barracks leader
Colm Meaney
Cowen
Miles O'Brien
Obi Ndefo
Rak'nor
Drex and Kelemane
Robert Picardo
Richard Woolsey
Lewis Zimmerman, The Doctor, and various other EMH's
Leon Rippy
Major General W. O. West
L.Q. "Sonny" Clemonds
Saul Rubinek
Emmett Bregman
Kivas Fajo
Alan Ruck
Dr. Adam Fletcher
John Harriman
Dwight Schultz
The Keeper
Reginald Barclay
Wallace Shawn
Arlos Kadawam
Zek
Armin Shimerman
Anteaus
Quark
Marina Sirtis
Dr. Svetlana Markov
Deanna Troi
Eric Steinberg
Netan
Paul Porter, Ankari captain
Scott Smith
Unnamed Officer in Stargate
Doyle
David Ogden Stiers
Oberoth
Timicin
Tony Todd
Haikon
Kurn, and others
Connor Trinneer
Michael Kenmore
Charles "Trip" Tucker
Musetta Vander
Shan'auc
Derran Tal
Gwynyth Walsh
Kelmaa
B'Etor, Nimira
Derek Webster
Lt. Brown
Lt Sanders
Doug Wert
Hadden
Jack Crusher
Marc Worden
Ronan
Alexander Rozhenko
Rick Worthy
K'tano/Imhotep
Jannar, and others
Vincent Hammond
Ruax, Unas Elder, Big One
Huge Alien
Community content is available under
CC-BY-SA
unless otherwise noted.