Self-destruct is, by definition, the act of destroying oneself or itself. Applied to crafts and other structures, this is either the fruit of a mechanism, or sometimes an accident.
As far as starships, space stations or bases are concerned, a self-destruct mechanism is usually implanted within their power grid, logically consuming a vast amount of the available fuel resources within the main power core(s), in order to provide the most destructive chain reaction possible, in the shortest amount of time. Sometimes, it's preceded by a significant buildup, resulting into an overload.
In the case of starships, most of the time they can be controlled from the bridge, and triggered once proper verification protocols have been passed successfully, but certain systems allow auxiliary control from remote panels throughout the ship or base.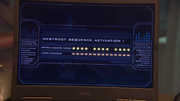 This is a last resort procedure generally used to prevent capture, or to cause as much damage as possible when the ship or base in question is overwhelmed by enemy forces. The resulting effects are generally cataclysmic in regards of the size of the devices.
Uses
Overloads
Self-destruct being usually and primarily obtained by setting up reactors, it has also been possible to turn independent power sources into bombs of tremendous power, by building up energy for overload (so that even if an energy buffer was present, it couldn't cope with the excess of energy). Such power sources were:
A portable Naquadah generator Mk-I, capable of liberating an energy worth of 20 kilotons by overloading, according to Dr. Rodney McKay. A similar method was going to be used to destroy the Gadmeer terraformer, by using a model closely similar to the first prototype built by Major Samantha Carter years earlier. (SG1: "Learning Curve", "Scorched Earth") (SGA: "Hide and Seek")
Zero Point Modules, with varied results, going from estimated star system obliteration, to assured planetary mass scattering, or mere destruction of an Asuran city-ship in orbit of Lantea, displaying the capacity to define a threshold level for the overload of ZPMs. (SG1: "Zero Hour") (SGA: "Critical Mass", "Progeny", "Be All My Sins Remember'd")
We are yet to see other power sources used in such a way.
Accidental self-destructs