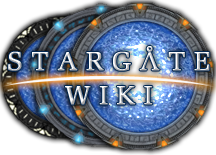 Jaffa, Kree!
Hello, Uptown1989, and welcome to the Stargate Wiki! I've noticed that you've already made some contributions to the Small Victories page -- thank you! We all hope that you'll enjoy our activities here and decide to join our community.
If you'd like to learn more about working with the nuts and bolts of this wiki, I have a few links that you might want to check out:
One other suggestion: If you're going to make comments on talk pages or make other sorts of comments, please be sure to sign them with four tildes (~~~~) to paste in your user name and the date/time of the comment.
If you have any questions, please feel free to post them in the forum, or simply ask me on my talk page.
Thanks, and once again, welcome to Stargate Wiki! — Anubis 10545 (talk) (Contribs) 06:30, August 8, 2017 (UTC)
Hello! Regarding the edits you've made on a few of our episode articles (including this one on The Enemy Within) in which you've added a "Credits" section - I have a few concerns:
The 'Credits" section adds a lot of physical length to the page; In some cases, the total page length taken up by the "credits" section is nearly as long as the entire rest of the article.
A detailed list of the 'Crew' is included in each season's article (For instance, This section on our SG-1 Season 2 article, the cast and crew of every episode in that season is provided).
As a result, I've reverted those particular edits. Let me know if you have any issues. -Anubis 10545 (talk) (Contribs) 06:49, September 25, 2017 (UTC)
Alternatively, we could implement something like this?:
Credits for Prodigy
Post Production Consultant
Casting by
Canadian Casting by
Production Manager
First Assistant Director
Second Assistant Director
Music by
Original Stargate Themes by
Theme Song Performed by
Joseph Mallozzi and Paul Mullie
Director of Photography
Production Designer
Editor
Supervising Art Director
Art Directors
Doug McLean
Ivana Vasak
Brentan Harron
Set Decorators
Mark Davidson
Robert Davidson
Construction Coordinator
Property Master
Special Effects Coordinator
Camera Operator
Chief Lighting Technician
Key Grip
Second Unit Director
Second Mixer
Head Painter
Costume Designer
Makeup Artist
Hairstylist
Production Coordinator
Script Supervisor
Script Coordinator
Extras Casting
Unit Manager
Legal Council
Gekko Assistant
Production Accountant
Location Manager
Transportation Coordinator
Stunt Coordinator
Post Production Supervisor
Visual Effects Supervisor
Post Production Coordinator
Assistant Editor
Associate Visual Effects Supervisor
Visual Effects Coordinator
'Supervising Sound Editor'
Sound Editor
Re-Recording Mixers
Sina Oroomchi
Iain Pattison
uncredited
Edit
Hi. Don't change "uncredited" to "credited" if you don't know. If role is mentioned as "uncredited", it means there's no mention of that character in episode credits. All actors who have such roles, which were added onto wiki, are recognized by fans and there is no any other info about their characters anywhere - neither on series, nor on IMDb or anywhere else.
Atlantistvru (talk) (Contribs) 18:08, September 25, 2017 (UTC) 
Redirects
Edit
Hello! Can you please stop making edits like this, in which you remove the text "#REDIRECT [[Watergate]]". In this example, "Watergate (episode)" is not its own article. It exists so that our citation template can work correctly.
Additionally, in the future, before you being making mass edits to dozens of pages, can you please consult with me first so that we can avoid potential mistakes that need to be reverted. Several of you most recent edits are contrary to our policy here. Thank you! -Anubis 10545 (talk) (Contribs) 08:30, September 29, 2017 (UTC)
Character Categorization
Edit
Can you please also cease making edits like this. We have category chains, so that, for example, the category "Odyssey Crew" is in the category "Tau'ri", and thus someone in the category "Odyssey Crew" doesn't need to also be in the category "Tau'ri" because it would create a redundancy. -Anubis 10545 (talk) (Contribs) 08:34, September 29, 2017 (UTC)
I have placed a temporary ban on your account to give us time to undo the mass edits you have made contrary to our policy. This ban will be removed within three days. If you continue to make mass edits contrary to our policy after this period, your account may be banned for a longer period.
I would, however, like to say that I appreciate your dedication to the wiki, and the large amount of time you've spent here the last few days. I've also noticed that there appears to be an inter-wikia glitch that's causing our standard welcome message not to appear. I've included it above; It provides several useful links to the policy here and other resources on the site. Thank you. -Anubis 10545 (talk) (Contribs) 08:41, September 29, 2017 (UTC)
Looks like you are at it again with unnecessary edits. I've already contacted Anubis 10545 and its likely to get you banned again.--WarGrowlmon18 (talk) (Contribs) 01:08, October 4, 2017 (UTC)
January 2018
Edit
I have undone your edit to Redemption, Part 1 , as it's clearly nonsense.  I have also undone several other edits by you which incorrectly capitalize words in other languages.  Please stop your disruptive editing.  PKT (talk) (Contribs) 18:21, January 4, 2018 (UTC)
Community content is available under
CC-BY-SA
unless otherwise noted.