m

Line 2:
Line 2:
 

'''Knight''', an old title for a person that gave his sword and life in the service of others, to fight for them, or in the service of a cause or belief.

 

'''Knight''', an old title for a person that gave his sword and life in the service of others, to fight for them, or in the service of a cause or belief.

 
 
−

[[Cameron Mitchell]] fought a [[hologram|holographic]] image of a knight in the caverns of [[Avalon]], and won after having a tough battle. ([[SG1]]: "[[Avalon (episode)|Avalon]]")

+

[[Cameron Mitchell]] fought a [[hologram|holographic]] image of a knight in the caverns of [[Avalon]], and won after having a tough battle. ([[SG1]]: "[[Avalon ]]")

 
 
 

== Behind the Scenes ==

 

== Behind the Scenes ==

 

The knight was played by: [[Nicholas Harrison]]''

 

The knight was played by: [[Nicholas Harrison]]''

−
 
 

[[Category:Titles]]

 

[[Category:Titles]]

 

[[Category:One-shot SG-1 characters]]

 

[[Category:One-shot SG-1 characters]]
---
Revision as of 09:20, 22 March 2010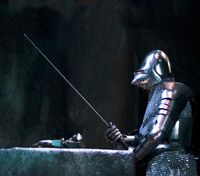 Knight, an old title for a person that gave his sword and life in the service of others, to fight for them, or in the service of a cause or belief.
Cameron Mitchell fought a holographic image of a knight in the caverns of Avalon, and won after having a tough battle. (SG1: "Avalon, Part 1")
Behind the Scenes
The knight was played by: Nicholas Harrison
Community content is available under
CC-BY-SA
unless otherwise noted.