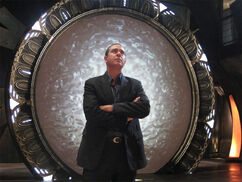 Joseph "Joe" Mallozzi is an executive producer and writer for Stargate SG-1, Stargate: Atlantis, Stargate Universe, and the indefinitely shelved movie Stargate: Extinction. He co-writes all his Stargate related projects with Paul Mullie.
Joe and Paul joined the Stargate SG-1 crew as writers and producers at the beginning of Season 4. The first episode written by them, "Window of Opportunity", is a well known fan favourite for the entire series. The two joined Robert C. Cooper and Brad Wright as executive producers at the beginning of SG-1 Season 7 and their roles continued through the production of Stargate: Atlantis.
Joe has also been writing a daily wordpress blog since November 2006. In it he discusses fine cuisine, his dogs, writing and various behind-the-scenes aspects of the Stargate shows. He often answers reader questions and hosts a book of the month club, usually in the Sci-Fi/Fantasy genre. Occasionally, a guest blogger will answer questions that are submitted by readers. Previous guest bloggers include: Sci-Fi/Fantasy authors, actress Amanda Tapping, executive producers Robert C. Cooper and Brad Wright, writer/director Peter DeLuise and many others.
Joe also won, in 2010 the Stargate Ice Cream Throwdown, competing against Rob. Joe won with the stats 2-1-1 (Two wins, one loss and one tie).
Co-Producer
Edit
Supervising Producer
Edit
Co-Executive Producer
Edit
Executive Producer
Edit
Consulting Producer
Edit
The Producers Wish to Thank
Edit
External links
Edit
Community content is available under
CC-BY-SA
unless otherwise noted.