Technical Data
Length
335 m
Width
192 m
Height
68 m
Mass
4,250,000,000 kg
Max Sub-Light Speed
95% speed of light
Max Hyperdrive Speed
11.75 LYM (Std)
52.083 LYM (ZPM)
Defenses
Asgard-type Shields, Trinium hull
Armaments
Railguns, Missiles, Nuclear warhead
Fighters
16 F-302 Fighters

The Daedalus is the first BC-304 produced by the United States. As with the patten followed so far in naming all US ships have been named after Greek mythological figures.
The second generation of interstellar space craft developed by the United States military and its allies. Commanded by Colonel Steven Caldwell, her original mission was to render aid to the Atlantis Expedition trapped in the Pegasus Galaxy and defeat a convoy of Wraith hive ships bent on destroying the City of Atlantis.
The Daedalus is armed with rail guns, Mark-8 tactical warheads and a bay of F-302 fighters. It also possesses Asgard shielding and beaming technology, but none of their weapons. To assure that these technologies are not abused an Asgard presence is aboard the ship at all times in the form of an engineering expert from their species. Presently that role is given to the Asgard Hermiod.
Propulsion consists of standard thrusters as well as an Asgard hyperdrive engine, capable of traveling one way between Earth and Atlantis in 18 days. The ship's primary mission is now to ferry personnel and supplies from Earth to Atlantis, and then to travel back again, but the Daedalus often stays in the vicinity of Atlantis for some time before making another loop.
Crew
Commanding Officer
Other notable crew

Doctor Lindsey Novak - Chief Engineer
Hermiod - Asgard Advisor
Major Campaigns
Technical Data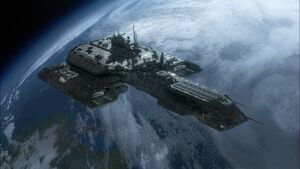 Manufacturer: Area 51 R&D, Subcontracted Civilian Companies
Type: Capital Ship
Operators: Humans
Powerplant

A buffered Naquadriah reactor core (original)
Advanced Asgard Hyperdrive/Reactor core (current)

Secondary Power Plant

Naquadah Reactors powering sublight drive system and antigravity wave generators

Crew: 20 Minimum
Weapons Array

1x Asgard Energy Weapon
10x Missle Launchers
8x Point Defence Rail Cannons

Defences

Asgard Shields
EW Equipment
Heavy Trinium Plating

Auxillary Craft: 16x X/F-302 or Death Gliders
Troop Capacity: Several Squads
Special Equipment

Goa'uod Transport Rings
Asgard Transporter
Locations
Bridge
The Daedalus has several upgrades over the Prometheus, but the bridge layout is relatively similar. The forward view port is wider to allow a greater visual field. This is particularly useful during battle situations, allowing several officers to make suggestions about how to proceed further without obstructing the captain's chair. A weapons officer sits to the right of the captain; a helmsman is to the left.
Engineering
Engineering deck has several control panels specifically rigged for Asgard operators. A viewport overlooking the Asgard Hyperdrive can be found at the aft end of the chamber. The engine room can accommodate a dozen personnel at any given time. Tasks from systems diagnostics to the deployment of weapons can be carried out here.
Flight Deck
The Daedalus possesses a complete compliment of F-302 fighter craft. Though the ship has two hangar bays all of the fighters occupy the starboard flight deck, perhaps meaning that the port deck serves as a re-entry bay when a skirmish must end quickly. Asgard shields can extend around the hangar doors in the event the flight deck is occupied while decompression procedures are scheduled to commence.
Officer's Mess
Because the Daedalus is designed for extensive deep-space voyages, an officer's mess is available to off-duty personnel. It is located on the port side of the ship and offers a view port into space. Hot coffee and perhaps other drinks are available in the mess, no matter the time of day.