"Hold the grip firmly, stock braced against your shoulder. It's got a kick. Keep your finger off the trigger 'til you're ready to kill whatever it is you're pointing at."
The M16 or M4A1, is an assault rifle used by the SGC and the US Military in general. The M16 is the standard issue rifle for the US military, and is therefore often seen in use by airmen and marines in the Stargate program. It is possible that the reason that it is not usually used by units like SG-1 is that the M16 is a lethal and longer range alternative to the submachine gun. The P90 has a larger magazine but a less deadly and powerful bullet which is better suited for the close range, more diplomatic missions of SG-1. The M16, as with most Tau'ri projectile firearms, are more effective and better constructed than their alien projectile counterparts. (SG1: "Children of the Gods")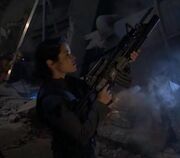 The M16 rifle may also be equipped with an Colt M203 grenade launcher under the barrel.It also has a picatinny rail that can mount an extremely wide range of attachments such as scopes, sights, lasers, lights, and shotguns. (SG1: "Orpheus")
There are several variants in the M16 family, many of which have been used by the SGC. The M4A1 Carbine is a Carbine variant of this rifle, with a shorter stock and barrel.
References and notes
Edit
External links
Edit
Community content is available under
CC-BY-SA
unless otherwise noted.