The Control tower in Atlantis (also known as the Central Spire) is the central building of the Ancient City-ship and is said to be approximately 70 floors tall. (SGA: "The Prodigal")
Overview
The central tower of Atlantis contains some of the most vital areas in the city, including Stargate Operations and the Jumper bay, and a balcony outside the Gate room provides a great view of the city and surrounding landscape.
Because the Stargate is housed in it, the control tower is better armoured than the other areas of the city, and the city is programmed to prioritize the areas closer to the tower if the city and its inhabitants would be threatened in some way or if power was failing. Other important locations include the Commander's office, the conference room where the Lantean Council once met, the infirmary, and the Holo room.
During their first year, the Atlantis expedition stayed within the area immediately surrounding the tower, but they have since expanded to other areas of the city. After the Asurans had taken control of the city, Lt. Colonel John Sheppard's team, Dr. Elizabeth Weir and Dr. Carson Beckett in a Puddle Jumper dropped a powerful explosive device to cripple the tower. The Asurans dismantled their ship to rebuild the control level. 
The tower was again damaged when the activation of the Attero device caused Atlantis' Stargate to explode, but the expedition were able to contain the damage by compressing Atlantis' shield around the Stargate so that the tower was the only thing that sustained damage rather than the potentially planet-cracking explosion that would have occurred otherwise, and the tower was later repaired and the Stargate replaced. The control tower is also the place of Michael Kenmore's death. (SGA: "Rising", "Hide and Seek", "The Siege, Part 2", "The Return, Part 2", "Sunday", "Adrift", "First Contact", "The Lost Tribe", "The Prodigal")
Locations
The levels of the tower are as such:
Unknown
Unknown
Unknown
Unknown
Main power room (Different from the ZPM Room)
The Unknowns are most likely:
At the base of the tower is:
There are also living quarters in the tower and it is apparent that Lt. Colonel John Sheppard's and Teyla Emmagan's are among them. (SGA: "Quarantine", "Sunday", "The Long Goodbye", "The Prodigal")
Appearances
Appearances for Atlantis control tower
In chronological order:
Trivia
The Control tower loosely resembles another tower shown in the BBC Sci-Fi series Doctor Who in the episode "The Doctors Daughter" (4x06).
Written across the stairs leading up to the control room and conference room are numerous Ancient symbols. When translated they read as: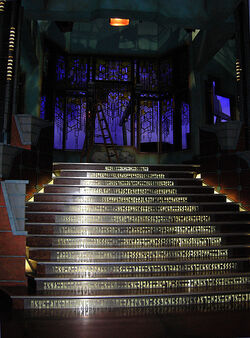 (The numbers correspond to the stair.)
(01) WE HOLD THESE AS THE TRUTH
(02) A HEARTY WELCOME TO THOSE OF OTHER WORLDS
(03) VISITING OUR HOME FOR THE FIRST TIME (W)ELCOME AGAIN
(04) ABSENCE HAS WEIGHED HEAVILY ON OUR SOULS WE ARE

(05) TO THOSE RETURNING YOU HAVE BEEN GONE TOO LONG AND YOUR
(06) AS WE LEAVE FOR DISTANT WORLDS WE PLEDGE TO RESPECT THE LANDS OF

(07) WHOLE AGAIN THAT YOU ARE AMONG US AND WE CELEBRATE YOU BEING HERE AGAIN
(08) OUR NEIGHBOURS AND TO ACT WITH INTEGRITY AS AMBASSADORS IN PEACE TIME
(09) OF OUR PEOPLE TRAVELLERS WITH OPEN HEARTS WILL ALWAYS BE WELCOME REFUGEES

(10) INHABITANTS OF THIS WORLD AND ALL WE MAY EVER KNOW WE WILL ALWAYS STRIVE TO
(11) FROM TYRANNY MAY SEEK SHELTER UNDER OUR ROOF AND KNAT OUR PEOPLE WILL LAY
(12) DOWN THEIR LIVES TO PROTECT THE WEAK AND THE JUST LET THIS BE OUR LEDGE TO THOSE
(13) COME IN PEACE AS WE GO IN PEACE AND YOU WILL BE WELCOME ON OUR SHORES FOREVERMORE


The order has been rearranged to make more sense in this one:


(01) WE HOLD THESE AS THE TRUTH
(02) A HEARTY WELCOME TO THOSE OF OTHER WORLDS
(03) VISITING OUR HOME FOR THE FIRST TIME (W)ELCOME AGAIN
(05) TO THOSE RETURNING YOU HAVE BEEN GONE TOO LONG AND YOUR
(04) ABSENCE HAS WEIGHED HEAVILY ON OUR SOULS WE ARE
(07) WHOLE AGAIN THAT YOU ARE AMONG US AND WE CELEBRATE YOU BEING HERE AGAIN
(06) AS WE LEAVE FOR DISTANT WORLDS WE PLEDGE TO RESPECT THE LANDS OF
(08) OUR NEIGHBOURS AND TO ACT WITH INTEGRITY AS AMBASSADORS IN PEACE TIME
(09) OF OUR PEOPLE TRAVELLERS WITH OPEN HEARTS WILL ALWAYS BE WELCOME REFUGEES


(11) FROM TYRANNY MAY SEEK SHELTER UNDER OUR ROOF AND KNAT OUR PEOPLE WILL LAY
(12) DOWN THEIR LIVES TO PROTECT THE WEAK AND THE JUST LET THIS BE OUR LEDGE TO THOSE
(10) INHABITANTS OF THIS WORLD AND ALL WE MAY EVER KNOW WE WILL ALWAYS STRIVE TO
(13) COME IN PEACE AS WE GO IN PEACE AND YOU WILL BE WELCOME ON OUR SHORES FOREVERMORE

(Written to be more easily read.)

WE HOLD THESE WORDS AS TRUE,

A HEARTFILLED WELCOME TO THOSE OF OTHER WORLDS VISITING OUR WORLD FOR THE FIRST TIME,

WELCOME AGAIN TO THOSE RETURNING YOU HAVE BEEN GONE TOO LONG AND YOUR ABSENCE HAS WEIGHED HEAVY ON OUR SOULS,

WE ARE WHOLE AGAIN NOW THAT YOU ARE AMONG US AND WE CELEBRATE YOU BEING HERE AGAIN

AS WE LEAVE FOR DISTANT WORLDS WE PLEDGE TO RESPECT THE LANDS OF OUR NEIGHBOURS AND TO ACT WITH INTEGRITY AS AMBASSADORS OF OUR PEOPLE IN PEACE TIME,

TRAVELLERS WITH OPEN HEARTS WILL ALWAYS BE WELCOME AND REFUGEES FROM TYRANNY MAY SEEK SHELTER UNDER OUR ROOF,

OUR PEOPLE WILL LAY DOWN THEIR LIVES TO PROTECT THE WEAK AND THE JUST, LET THIS BE OUR PLEDGE TO THE INHABITANTS OF THIS WORLD AND ALL WORLDS WE MAY EVER KNOW

ALWAYS COME IN PEACE, AS WE STRIVE TO GO IN PEACE AND YOU WILL BE WELCOME ON OUR SHORES FOREVER MORE