Wiki Targeted (Entertainment)
Play Sound
Adam Benton (aka kromekat) is an award-winning illustrator based in the UK, producing high quality digital images using both 2D and 3D tools. He has a broad range of international clients in advertising, corporate media, education, editorial, film and TV.
His work has been featured in a number of prestigious art publications (Ballistic's Exotique, Expose amongst others) and magazines, where both the industry and art loving public alike have enjoyed and celebrated his artistic achievements. Commercially, his artwork has adorned the facades of West End musical productions, posters, magazine and cd covers, as well as in corporate brochures, science textbooks, medical journals, and even on double-decker buses!
Adam is also a regular contributor to a number of magazines aimed at helping budding artists and illustrators master their own skills in the exciting world of digital art, for whom he generates original imagery, and attempts to dissect the processes and tools needed to help others get there.
Adam has also allowed his interests and skills to wander into the realms of animation and film, with recent and diverse CGI contributions to a couple of independent sci-fi film productions that sent waves across the world for their shear scale and creative achievement, one of which bagged two major accolades including a prestigious award from George Lucas himself.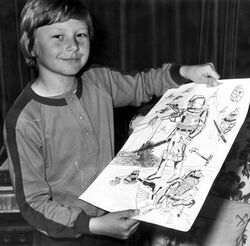 Community content is available under
CC-BY-SA
unless otherwise noted.